Nothing defines the tradition of a company as much as its history. A lasting history testifies about experience, consistency and establishment. We believe that our history corresponds to these values and is an important part of our development and success. Therefore, we cordially invite you to follow our elaborately traced history by means of original pictures.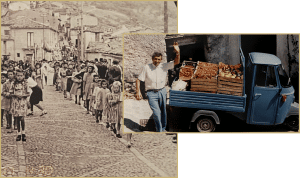 The journey starts in a little town called Picerno in the very south of italy near Potenza. Growing up on a farm with big fields, helping their parents from a young age was necessary as their father worked in construction full-time to feed the family.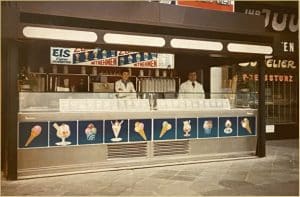 They arrived in Berlin at the age of 15 with no knowledge of German. Their vision was to bring a part of Italian food culture to Berlin and offer it with the highest quality in fast-paced environments. Their first job started in an ice cream parlor with founder Luigi Da Dalt at his side, whose friendship continues to this day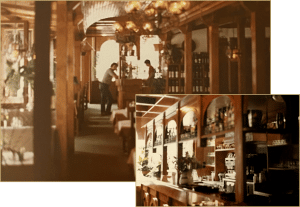 The first step into self-employment began after years of hard work. A small dream came true when at the age of 20 they bought their own restaurant and run it themselves.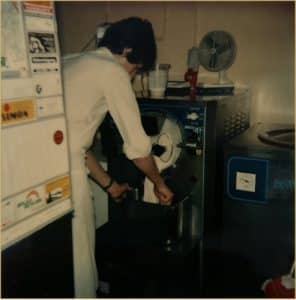 With a sufficient amount of knowledge and experience in the restaurant business, a friend's offer to run their first own ice cream parlor was accepted.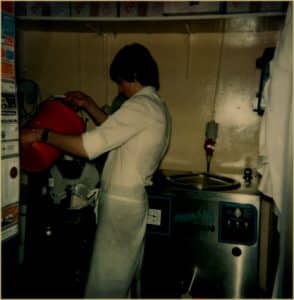 It was time to develop their own recipes and create a brand. To create a perfect taste experience, different ingredients and blends were tested in the ice cream lab.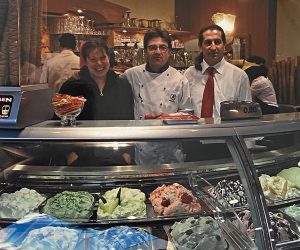 The ice cream laboratory, leased for the time being from a friend, was purchased. Many hours of work on the recipe began. The interest in the recipe and the special taste grew.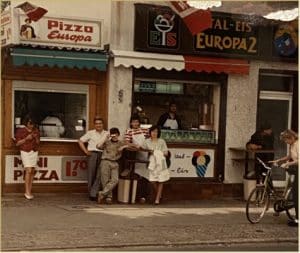 Two new stores right next to each other were opened: Eiscafé & Pizza Europa. The roles between the brothers were clear and it was time to expand.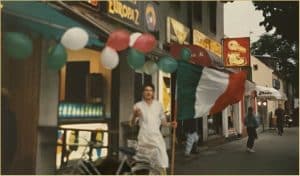 Constant improvement of the ice cream and pizza recipe led to opening another store in Berlin, where the famous shopping center "Gropius Passagen" is today.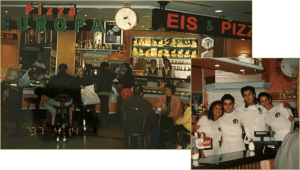 The largest shopping center in Berlin "Gropius Passagen" was built. Due to the awareness and popularity, a branch was established in the new center. The first combined store with pizza & ice cream was offered and the laboratory expanded in size and technology.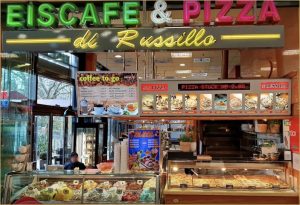 Another store was opened in "Gropius Passagen". Sticking to their products the concept from 1995 was duplicated. The first "Eiscafé di Russillo" was opened.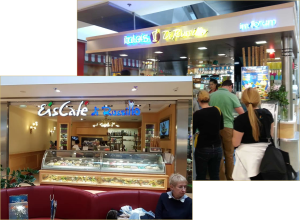 Forum Steglitz in Berlin offered area to repeat the concept. They opened two new stores, one in the first floor and one downstairs with an outside terrace.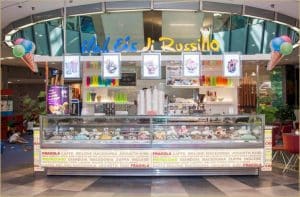 The "Schlossstraße" In Berlin is a beloved shopping street. Right next to "Forum Steglitz" another store was opened in the shopping center "SchlossstraßenCenter".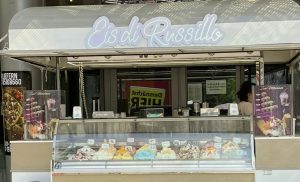 2017 "La Pizza di Russillo" opened. As so far, they could only offer their ice cream along one of the biggest shopping streets in Berlin, a Pizza store was the perfect choice to offer very high-quality pizza in a fast-paced environment. Along with that a small ice cream shop "Gelato di Russillo" was positioned near the metro station.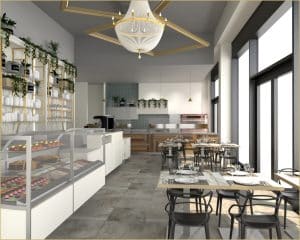 Europa-City Berlin. An up-and-coming area in Berlin is generating interest. A hybrid concept is created directly on the Spree, a river that runs through Berlin. A combination of ice cream parlor, pizzeria and other selected dishes are complemented by beverages to create a perfect experience in prime waterfront location.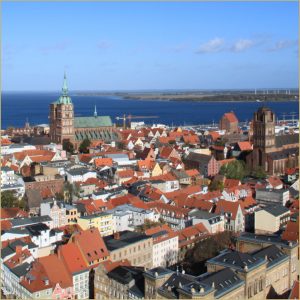 To fulfill the companies vision we plan on expanding in specific regions of Germany. The first step in this direction is the opening of our first store in Stralsund at the beautiful German sea.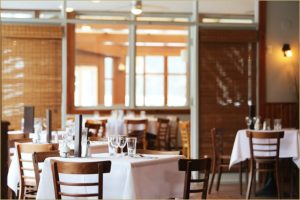 We are looking forward to fulfilling the vision and expand. If you know about an exciting area or project that could harmonize with what we do, feel free to contact us over our contact formular or ask for the founder's contacts in one of our stores. Thank you for your interest in us. Let's create something great together, di Russillo.
We want to offer our customers the best possible experience in fast paced environments. The standards of the gastronomy industry have party changed. Tradition, attention to detail and high quality-products can rarely be found in gastronomic companies nowadays.

To continue manifesting these standards our ice cream and pizza is being produced using only the finest ingredients and perfected recipes in our own premises. Our stores and furniture are designed and produced in Italy to follow the initial vision to transfer traditional Italian foods and in addition the specific style. When it comes to employees we rely on a long-termed
employment relationship and are super thankful and proud for every single one of our team members as they are an important part of our company.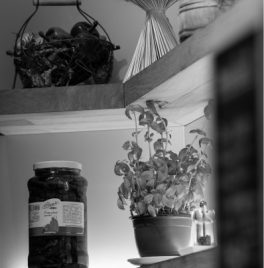 The best Italian Ingredients
To create highest quality products each ingredient is carefully picked. We value our ingredients grades and origin. Thus, some of our products come from regional companies located in our hometown where we have full transparency and can specialize the products to our needs.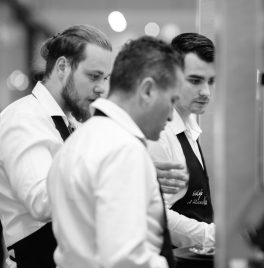 Our experienced employees
Each and every single person in our company brought us to where we are today. We are thankful to host a very qualified team of employees who truly perfected their craft and strive on receiving more applications from people who want to work in a nice working climate and bring out the best part of themselves.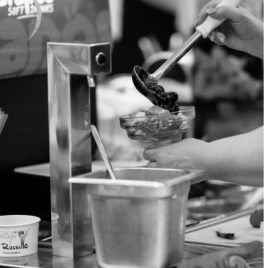 The founders grew up working on agricultural fields thus learning early what separates high quality products from the rest. Given that background, the companies recipe is being perfected since 1981 and is constantly improving judging from a very critical and questioning viewpoint.
You have unanswered questions, wish for more indepth information regarding a topic, are interested in partnering up with us or simply want to share your experience or say hi? Make sure to conteact us. We will process your request as soon as possible and are happy to help.
Our quality ice cream is not only available for customers but also for businesses of every branch. Order ice cream buckets directly to your store through our online checkout tool.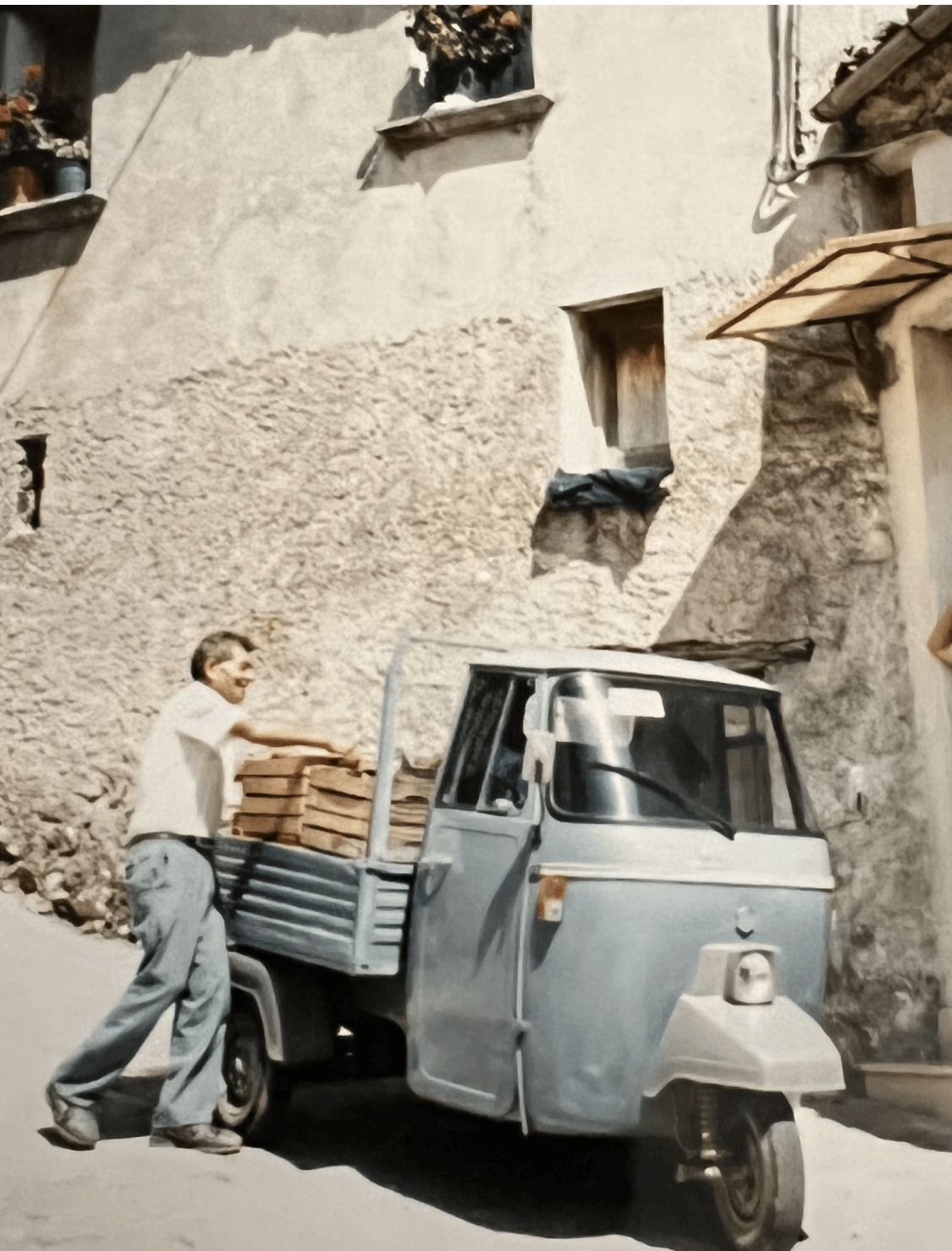 We offer a variety of advantages to our partners to fulfill every need. From our highest quality products to years of experience or a big stage to present upcoming products.First the people then the concept. Successful together – because with us as your partner both applies.
Planning to eat at one of our stores? Make sure to book a table and we will keep it reserved so you can enjoy our food and service. In case our stores are too busy we happily invite you to "Order now" and receive our traditional food anywhere else you want in our area.